Project Feed the Hood is able to continue our food justice work through the generous support of sponsors!
Please look below the image for information on how you too can assist in ensuring our continued success around Albuquerque!
Current 2012 Sponsors: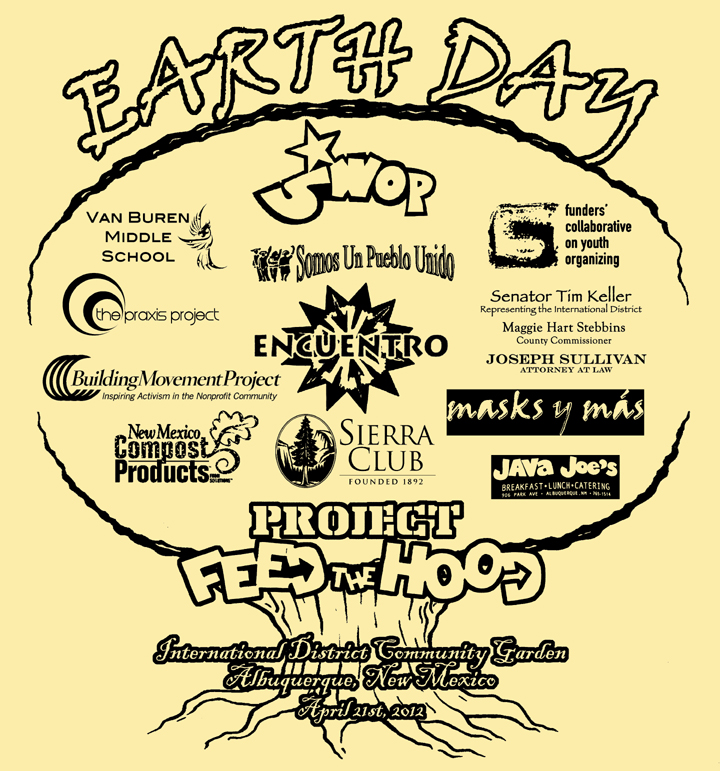 If would like to become a Sponsor of Project Feed the Hood, please contact:
Marisol Archuleta
marisol@swop.net
505-247-8832
211 10th Street SW
Albuquerque, NM 87102
LEVELS OF SUPPORT:
Levels of Support:
Seedling: For $25, you can help us provide a set of seedlings for this season's garden.
Garden Tool Set:  $50 will help us provide a garden tool set consisting of a shovel, trowel, and rake to a Project Feed the Hood Volunteer.
Fruit Tree: $100 will allow us to purchase a fruit tree to provide shade and fruit for our gardens.
Mini-hoop House: $250 will help us build a mini-hoop house set up to provide a protected environment to grow food year-round.
Raised Bed: $500 helps us cover the cost of a raised bed that helps us provide produce.
Garden Apprentice: $1,000 will help us to hire and train a young person to work on our various projects.
Sponsors of Project Feed the Hood will be recognized in the following ways:
For $25, you will a Project Feed the Hood sticker plus recognition on our website list of 2012 sponsors.
$50 – All of the above plus a packet of heirloom seeds with instructions.
$100, you get the sticker, the website recognition as well as your name our official PFTH 2012 t-shirt.
$250 – All of the above plus your name/logo on the PFTH banner as a sponsor.
$500 – All of the above plus your name painted by local youth on raised beds in our community garden.
$1000 – All of the above plus recognition as a sponsor of PFTH on all of our member email newsletters – reaching thousands of New Mexicans!