Join Project Feed the Hood and some of our community partners for a panel discussion and film screening of "A Place at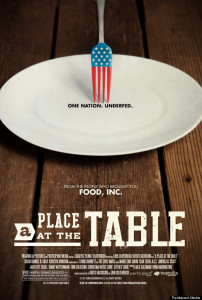 the Table", from the producers of "Food Inc.", in Smith Brasher Hall at CNM in Albuquerque on Wednesday, October 23rd from 4-7 PM. Click to RSVP on facebook.
Project Feed the Hood will facilitate a discussion about how food insecurity affects our communities and ways we can work together to build a better food system for all New Mexicans!
Project Feed the Hood has grown tremendously since its inception 4 years ago; our priority has always been to raise awareness, educate, and organize with communities to address food insecurity and structural inequalities in our food system.
Hunger and food insecurity vastly affect the daily lives of thousands of New Mexicans, with children being the highest at risk. Inequalities in the food system have left many in New Mexico hungry, yet overweight and unhealthy at the same time. New Mexico not only has some of the largest food deserts in the country, but some of the starkest dietary disease statistics (childhood obesity, diabetes, heart disease, etc).
There are many ways to advocate for equality in the food system, and there are a lot of great groups in New Mexico working on a wide variety of food justice issues in their communities.
We look forward to seeing you at the "A Place at the Table" screening on October 23rd!
Check out video from the panel discussion at our previous screening here.