To all of the supporters of Project Feed the Hood – Thank you for your continuing support of our community gardening initiatives over the past three years.
On April 21st from 10 a.m. – 12 p.m.,  Project Feed the Hood is  hosting an Earth Day Celebration to kick off the 2012 growing season. This year we are working in more schools, in more communities and on more gardens than ever before. Our workers and volunteers have high hopes to raise conversations about community health across Albuquerque and New Mexico but to reach our goals, we need your help.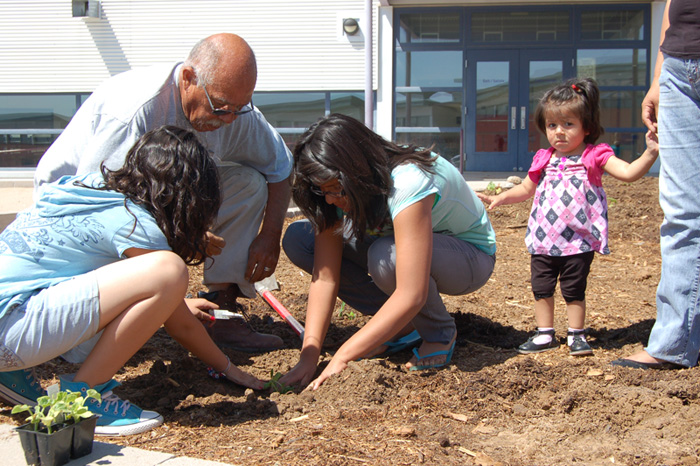 You may know about the "Madres Naturalezas",  a group of mothers, many of them immigrants, who have children at Edward Gonzalez elementary school. Last year, Joaquín Luján, a SWOP community organizer, began working with them to create a garden at the elementary school and also in their own backyards.
You can't imagine what other activism this has sparked.
One year later, these women have advocated for more sustainable food policies at the round house, have educated other mothers on how to grow food in their backyards, and are working with teachers, students and school administrators to get healthier food options at all Albuquerque Public Schools.
All this began with a seedling, a little gardening knowledge, and a passion to make things healthier for kids in Albuquerque.
This year, our community garden programs have tripled in size. We now work with 3 different elementary schools, 1 middle school and 2 high schools.
Groups like las Madres are forming at all these schools.
Food policy initiatives are taking root from the school board all the way up to the state level.
This is exactly what we have been working towards.
As our program has grown, our need for community support also grows.
We're hoping you'll consider partnering with SWOP as a sponsor of this project.
Your help is critical if we're going to shift food policy and build a constituency of empowered people who have the knowledge to grow their own food and the confidence to fight for healthy food in the school system.
Will you become a sponsor of Project Feed the Hood?
There are many ways that you can assist in ensuring our continue success around Albuquerque.
Seedling: For $25, you can help us provide a set of seedlings for this season's garden.
Garden Tool Set:  $50 will help us provide a garden tool set consisting of a shovel, trowel, and rake to a Project Feed the Hood Volunteer.
Fruit Tree: $100 will allow us to purchase a fruit tree to provide shade and fruit for our gardens.
Mini-hoop House: $250 will help us build a mini-hoop house set up to provide a protected environment to grow food year-round.
Raised Bed: $500 helps us cover the cost of a raised bed that helps us provide produce.
Garden Apprentice: $1,000 will help us to hire and train a young person to work on our various projects.
Sponsors of Project Feed the Hood will be recognized in the following ways:
For $25, you will a Project Feed the Hood sticker plus recognition on our website list of 2012 sponsors.
$50 – All of the above plus a packet of heirloom seeds with instructions.
$100, you get the sticker, the website recognition as well as your name our official PFTH 2012 t-shirt.
$250 – All of the above plus your name/logo on the PFTH banner as a sponsor.
$500 – All of the above plus your name painted by local youth on raised beds in our community garden.
$1000 – All of the above plus recognition as a sponsor of PFTH on all of our member email newsletters – reaching thousands of New Mexicans!
If would like to become a Sponsor of Project Feed the Hood, please contact:
Marisol Archuleta
marisol@swop.net
505-247-8832
211 10th Street SW
Albuquerque, NM 87102